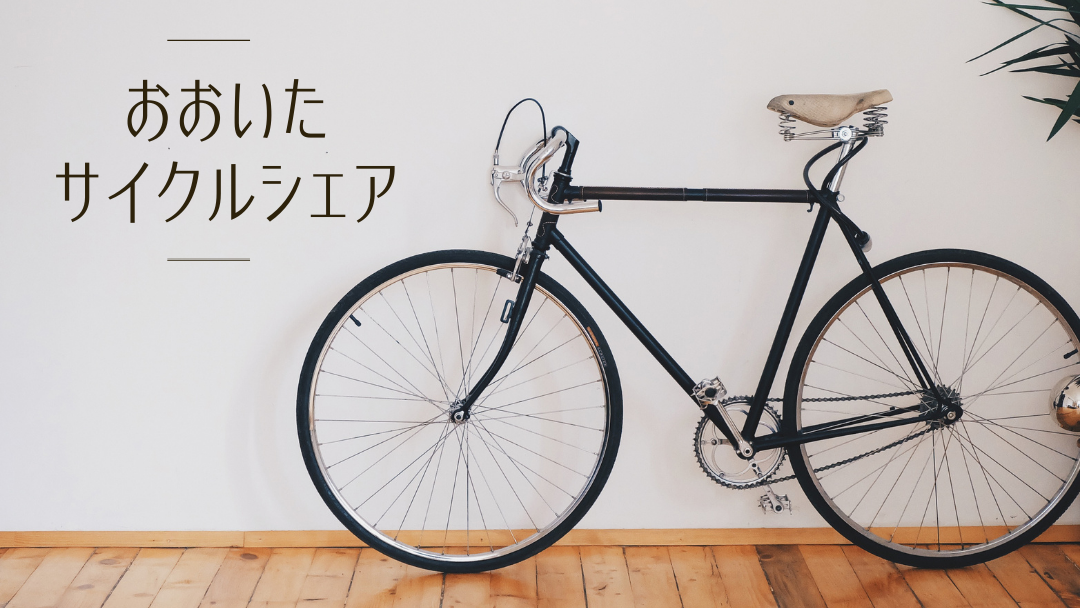 This time, I'd like to introduce Oita Cycle Share, which I've been seeing more and more often in Beppu City!
Oita Cycle Share is one of an increasing number of bicycle sharing services. It is available in both Oita City and Beppu City and is very easy to use. In this article, I will tell you how to use the service, about the spots where you can rent bicycles through Oita Cycle Share, and some recommended spots for cycling.
Let's start with how to use it. First, you need to get a special IC card or download a special app to your smartphone. At Terrace Midobaru, Oita Cycle Share brochures can be found near the reception desk, and you can download the app from the QR code printed inside. After downloading the app, follow the instructions in the brochure to register as a member. (Some instructions are in English).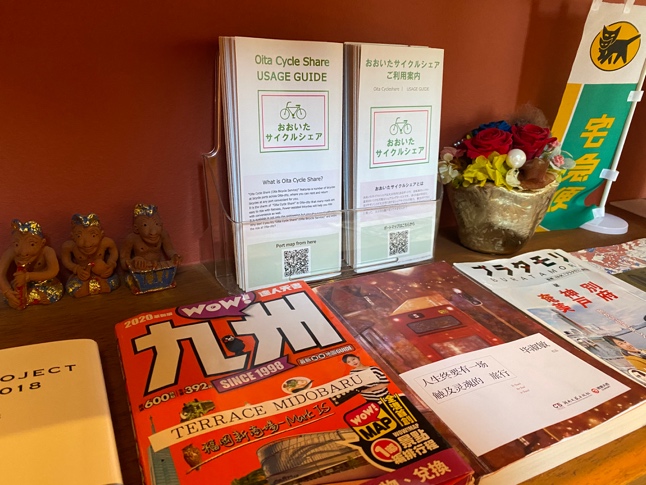 This time, I used a special IC card, which you can get at Galleria Midobaru. As of January 2021, a one-day unlimited pass costs 2,000 yen. It's perfect for those who want to go various places throughout the day without worrying about time.
However, if you just want to go somewhere nearby for a shorter period of time, I recommend using the app. With the app, you can divide the amount of the fee by the amount of time you use the service. In this case, the fee is 150 yen for the first 30 minutes and 100 yen for each additional 30 minutes after that.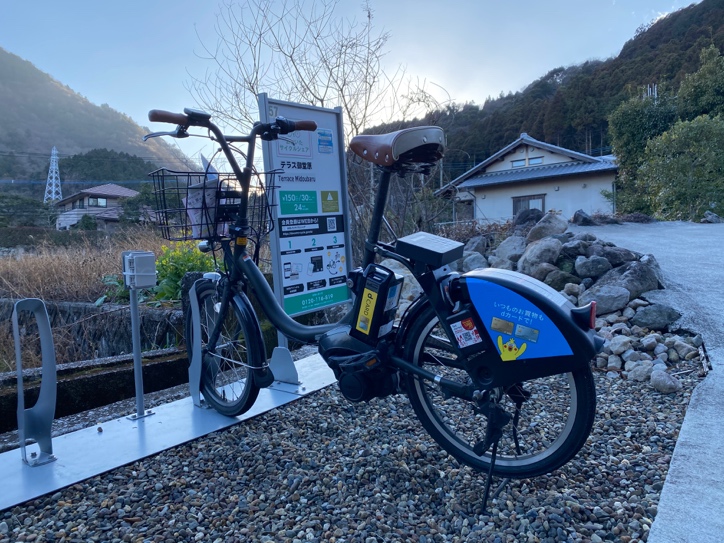 We picked up our bicycles from the Oita Cycle Share Port (a place where you can borrow and return bicycles) adjacent to Terrace Midobaru.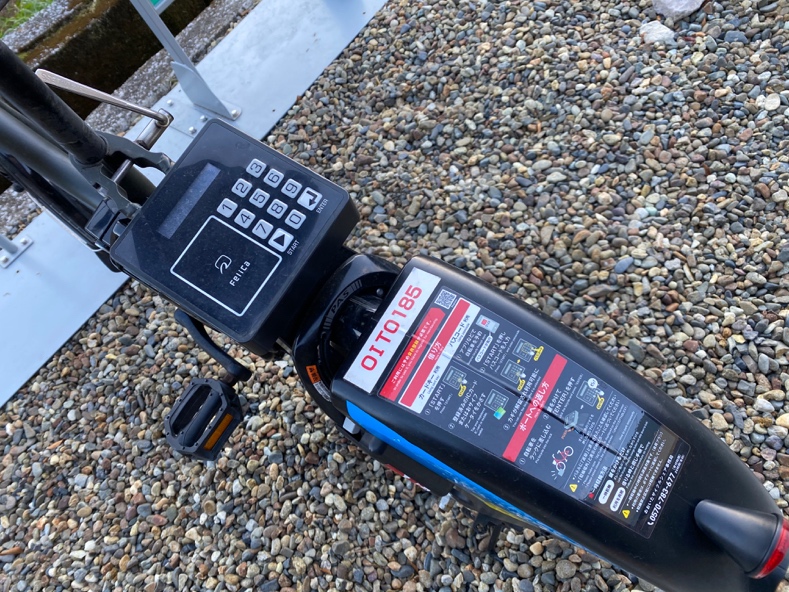 All of the bicycles are electric-assist, which makes it easy to go up hills.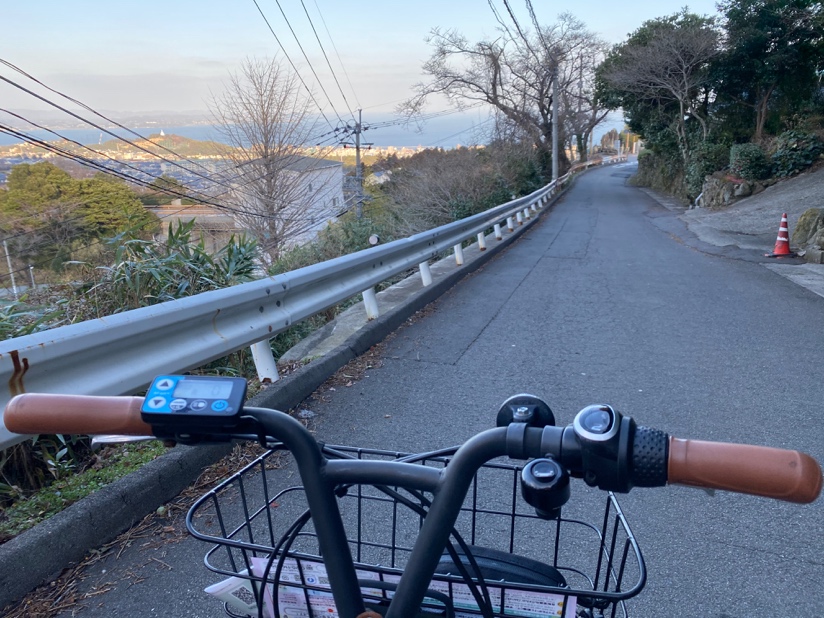 And we're off from Terrace Midobaru! As we descended the gentle slope, we could see Beppu Bay. When you're driving a car, it's hard to pause and look around. However, on a bicycle, you can stop anytime to take pictures and enjoy the view!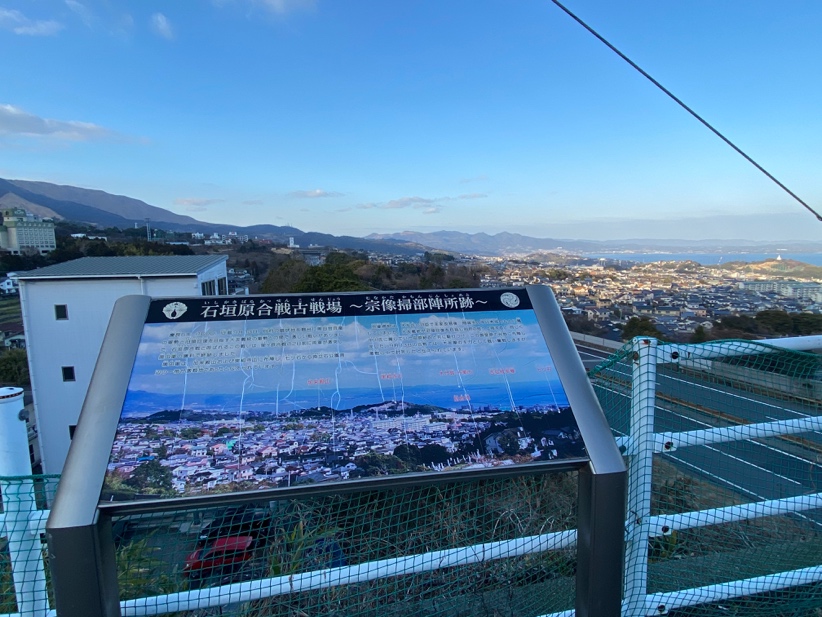 Speaking of Beppu, there is the Battle of Ishigakihara. Kuroda Kanbei, a famous daimyou or lord who lived from 1546 to 1604, is also famous in this area. This map gives a brief description of the place and its history based on the view from here.
By the way, I recently introduced a hidden hot spring spot called Mugen no Sato. By bicycle, you can reach it in less than five minutes from Terrace Midobaru. The return trip will be uphill, but thanks to the electric assist, it is a breeze. You can come back to the hotel without getting cold.
After enjoying exploring Beppu by bicycle, we returned to the Oita Cycle Share Port at Terrace Midobaru to return our bicycles. To return the bike, simply park it in the same spot you found it and lock it up. The system will then automatically charge for the bike. It's very easy.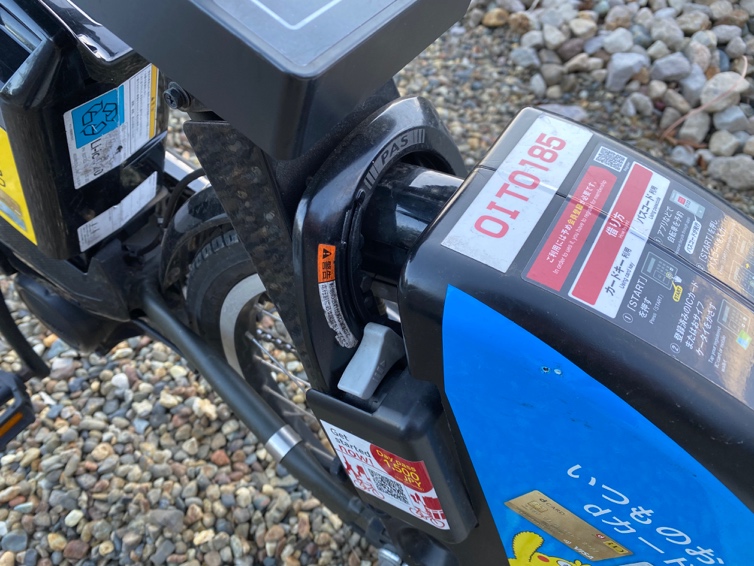 In addition to Terrace Midobaru, there are quite a few other ports in Beppu City, and you can ride from any of them.
Finally, here are some recommended spots to go out using the Oita Cycle Share!
Hell Tour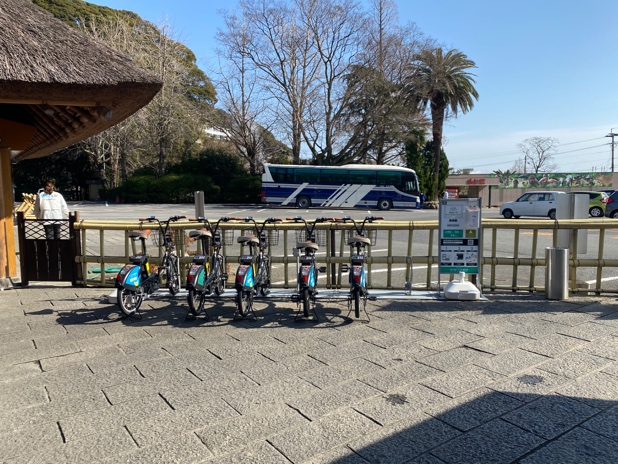 There is an Oita Cycle Share Port at Umi-Jigoku. This area is densely populated with hells, making it perfect for bicycle travel.
Tanoura Beach
How about refreshing yourself with a bike ride while feeling the sea breeze? This beach has a well-developed route for bicycles, so you can easily pedal along the beach.
Hot Springs Tour
There are many hot springs in Beppu City that are easy to enjoy, such as Ekimae Koto Onsen and Umezono Onsen. Some of them are only 100 yen! It is good fun to take a bicycle tour of these historic hot spring facilities.
The location of the ports can be found on the map in the Oita Cycle Share User Guide or on the official website.
Cycling is a great way to get an intimate feel of the four seasons and enjoy the scenery and nature so often overlooked when traveling by train or car.
Comments are closed.